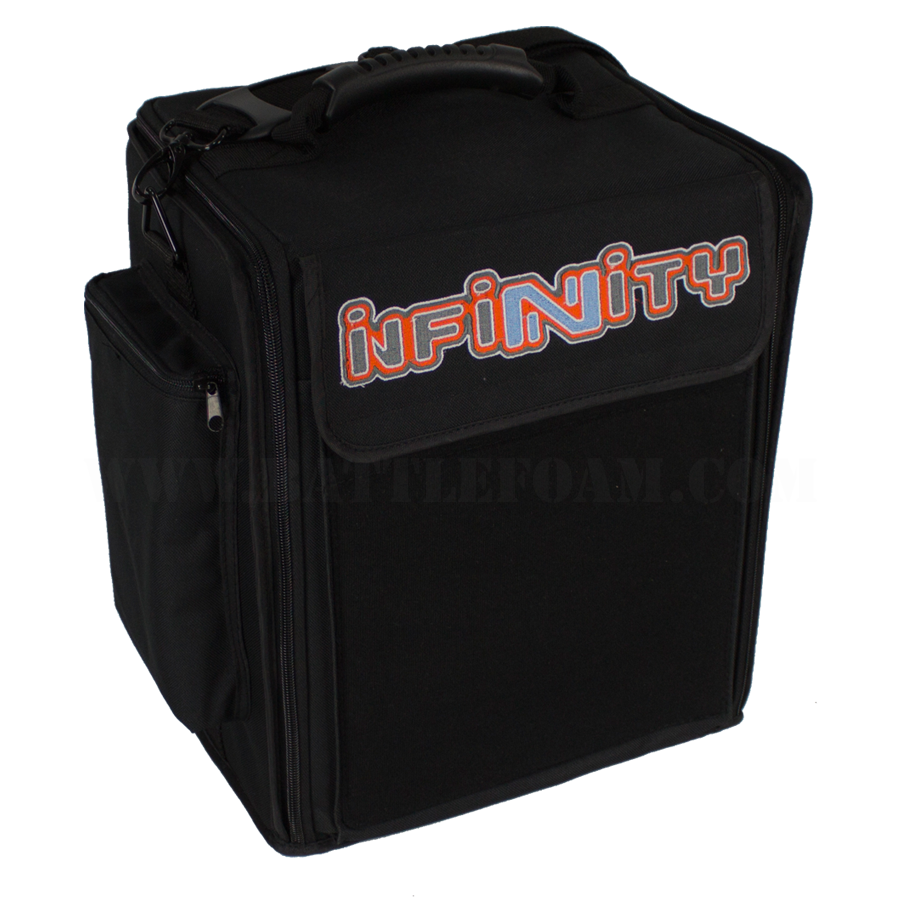 -5%
Infinity Alpha Bag Vertical
BattleFoam
Entrega en 3 - 5 días
Referencia: GRANDE V.
ISBN/EAN/UPC: BF-INFAB2-VSL
Tipo: Maletines y Esponjas
Battle Foam is the official bag company of Corvus Belli and has worked directly with the design team at Infinity to create the ideal storage solution for tournament players and collectors alike.
The Infinity Alpha Bag is made with a hard plastic inner shell to help protect your valuable models inside. It is covered by a black canvas material with the Infinity logo embroidered on the front pocket.
The large pockets on the front and back of the bag are big enough to hold two of the Infinity rule books. There are pockets on both side that will fit large templates, dice, tokens and other accessories. A pocket is available on the back and on the inside of the bag for any paperwork you may want to carry.
Lastly, you have the main foam area. The Infinity Alpha bag will hold 7.5 inches (191 mm) of foam when loaded vertically inside the bag. With this load out option, you will receive the following three foam trays:
1x 1.5 inch (38 mm) thick tray with 35x 1 x 1 1/2 inch (25 x 38 mm) cut outs and 6x 1 1/2 x 1 1/2 inch (38 x 38 mm) cut outs.
1x 2 inch (50 mm) thick tray with 4x 2 x 1 1/2 inch (50 x 38 mm) cut outs, 5x 1 3/4 x 1 inch (44 x 25 mm) cut outs, 6x 2 1/4 x 1 1/4 inch (57 x 32mm) cut outs, 6x 1 3/4 x 1 1/4 inch (44 x 32 mm) cut outs and 14x 1 3/4 x 1 inch (44 x 25 mm) cut outs.
1x 3 Inch (76 mm) Pluck Foam Tray.
3x Foam Toppers
This load out option will hold 76 various size models. Plus, it comes with one full 3 inch pluck foam tray ready for customization.
Custom text is not available on these trays or toppers.
Tray Dimensions - 12.5W x 10.5L" (318 x 267 mm)
Bag Dimensions - 11W x 7.5L x 13H" (279W x 191L x 330H mm)
No substitutions allowed.